Blue Moon Rising Star: Kelechi Iheanacho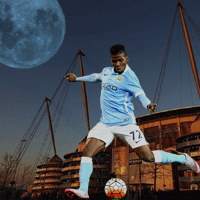 Posted on 12th March 2016
Born October 3 1996, height 1.85 m, left-footed, his name is Kelechi Promise Iheanacho.
As the name implies, he's one of the hottest prospects currently playing in the English premier league. He comes from the Taye Academy, and has been bought in at an early age by Manchester City. After Iheanacho's hat-trick in the FA Cup, Dion Dublin,  the former Manchester United and Celtic player, said "what Kelechi Iheanacho did I couldn't even do in training".
We can't disagree with that: his best performances this year have been marked by key qualities in shooting, pace and movement. This young player always gives reference points to his team, playing high-quality first-time passes with the right timing.
He's a team player: maybe this is the best quality in modern football. But for his natural attitude to play for his team mates, he still needs to develop in certain areas such as dribbling and his overall skill set.  
Physically he looks like a young Drogba, who played for Levallois at his age. The Ivorian champion focused his training on the same weaknesses of Iheanacho: at his age, Didier Drogba wasn't a striker with long range shooting ability, nor did he possess the physical presence and speed qualities we've seen in England or France. Kelechi Iheanacho has to improve his qualities in the same way to become a world class striker.
Another point of strength on which I would like to focus is the mental approach: Iheanacho has the aggression and coldness of a great player. In this way, even if he lacks in some technical attributes, he can play at a high tempo for a full match. If he continues to train and develop, his mentality will surely help him to become a wonderful player.
This season he has scored 9 goals and played 865 minutes: 96 minutes per goal, which is not a bad return for a player who is only 19 years old. When you compare his goal scoring record this season with another young star from across the city in Anthony Martial, many must be wondering why he perhaps has not received the same plaudits as the Utd player. However this could turn out to be a blessing in disguise, as he will not be facing anywhere near the same pressure and expectation and as such he can now focus on developing himself into the star many believe he can become.
About the author – Marco Santanche
Marco was born in Rome and supports Inter because of Luiz Nazario da Lima Ronaldo. He is a Brazilian citizen because of his father's roots. He played futsal for several years, even in the FIGC (Italian FA) as a winger, playmaker and striker. He is now studying for a degree in finance.